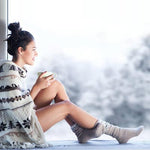 #mybnco
WHERE WILL YOU TAKE US NEXT? TAG US!
Our Story
Based in beautiful Montreal, Canada, BNCO Apparel™ was originally founded in 1984 as a family run company bringing our customers the latest trends in socks and legwear. The company has grown since. BNCO Apparel™ is still a Canadian family run company and now takes pride in offering a full range of comfortable and trendy footwear and accessories for the whole family.
BNCO Apparel is proudly a vegan and cruelty free company, and in 2019 became a PETA-Approved vendor. From our cozy faux-fur slipper socks to our fluffy and warm winterwear, the next generation of BNCO Apparel™ continues to bring vision, innovation and passion to our brand. Each item is carefully packaged so that you can have comfort, happiness and style delivered right to your door.
#mybnco